Blue Cattle Group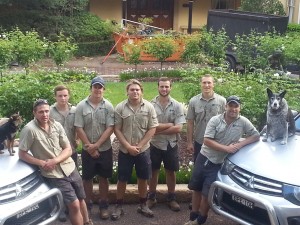 Specialising in Landscapes & Gardens – Blue Cattle Group is owned and operated by co-directors and life long friends Dominic Thrum and Brendan Tierney.
Together they have a combined 25 years experience in the industry, priding themselves on adopting a hands-on and personal approach to each property and project.
Maintaining high standards, they have created a proud culture within the company, assembling a small but loyal, hard-working and reliable team of staff.
Blue Cattle Group is licensed for structural landscaping projects, certified in horticulture and fully insured.
They provide services across the entire Landscape & Garden spectrum from Landscape Construction through to Garden Maintenance and other General Property Maintenance requirements.
Our team on the ground:
Dominic (Owner Operator) – Qualified Horticulturalist & Licensed Landscaper – Manager & Crew Leader for Gardening & Horticultural Services, Lawn Mowing & General Maintenance and Other Essential Property Services.
Brendan Tierney (Owner Operator) – Licensed Landscaper & Qualified Horticulturalist – Manager & Lead Tradesman for Landscape Construction & Outdoor Living Solutions
Dave Shelston (4th Year Apprentice) – Certificate III Landscaping & Horticulture
Tom Clifford (2nd Year Apprentice – Certificate III Landscaping & Horticulture
Cameron Paterson (2nd Year Uni Student) – Casual Staff Member